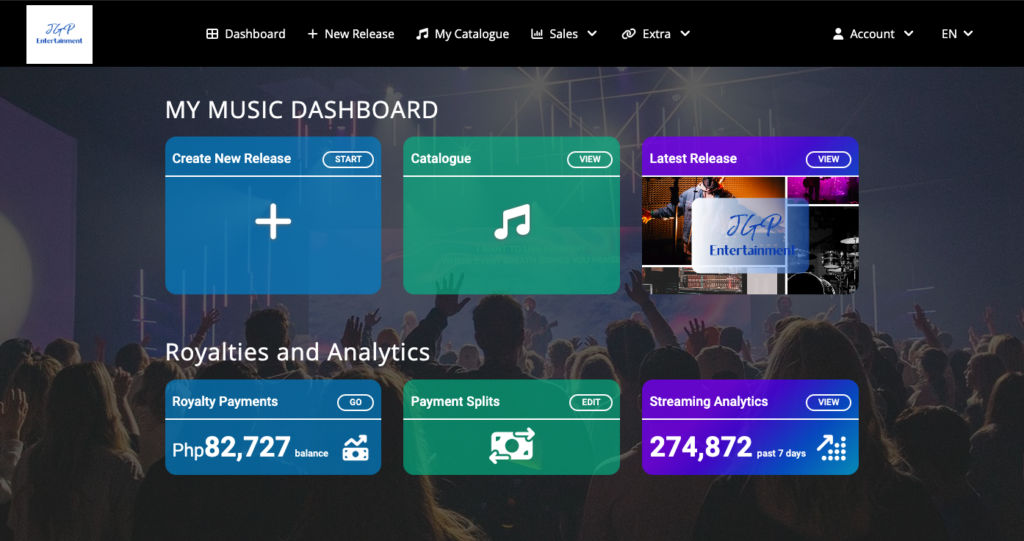 Each artist gets their own distribution portal which includes
Free Unlimited Distribution
You keep 100% of your copyright
Music Up FOREVER!! Zero yearly subscription fees.
Guaranteed Automatic Monthly Payments the 8th-10th of each month transferrable to your bank account anytime.
Displays royalty payments in your countries currency.
Real Customer Support in 7 languages
Artist Portal contains 27 available languages
Streaming Analytics for all the top distribution platforms
Free Youtube Content ID
Get on the digital stores within 24-48 hours
Payment splits with collaborators
We can assist you with transferring releases to JGP
Free UPC/ISRC Codes
Free Shazam

Unlimited Artists!

Free automatic delivery to any new stores that we partner with.

We only take a custom percentage for commission depending per artist/band catalogue

Easy User Portal Interface

Free release day links

VEVO Delivery
We can assist with uploading your music

additional promotions and artist tools possible for releasing through us!
We can assist our artists with copyright infringement claims.
We also have access to a new special tech developed by Spotify so your music may be discovered by more people!
You can keep your spotify stream count if you transfer releases to JGP!
Please only upload music that you recorded! Thank You
Message us on facebook or Instagram to get started!